The Boys' version of Vision is a complete and utter fraud. Mind-Droid was the popular comic by Garth Ennis and Darick Robertson's answer to Marvel's Vision. Mind-Droid was a high-level telepath who was also an android as one of the few non-human Supes – at least that's what he wanted the general public to believe.
Mind-Droid first appeared in The Boys #7 by Ennis, Robertson, Keith Burns, John McRea, Tony Avina, and Simon Bowland as a part of the Payback superteam. The group was Vought-American's second-most powerful team behind the Seven and starred a roster that featured parodies of Captain America (Soldier Boy), Swatto (Ant-Man), Stormfront (Shazam), Crimson Countess (Scarlett Witch), and Iron Man (Tek-Knight). Mind-Droid, who's got a jetpack and is a telepath, is the team's answer to Vision. Except unlike the Marvel hero, he's not an android at all.
Related: The Boys Season 3 Theory: Soldier Boy Joins Butcher's Team (Not The Seven)
In the comics, Mind-Droid and Payback are hired to take down The Boys in a mission that ultimately fails miserably. When the team discovers Crimson Countess has been murdered by Billy Butcher, they soon begin to get picked off one-by-one. Butcher confronts Mind-Droid and knocks him to the ground with a shovel. Knowing that he's been defeated, Mind-Droid reveals the truth about his superhero persona. He tells Butcher "I'm just a dude, okay? I'm telepathic but I'm not a robot! I'm a dude in a suit!"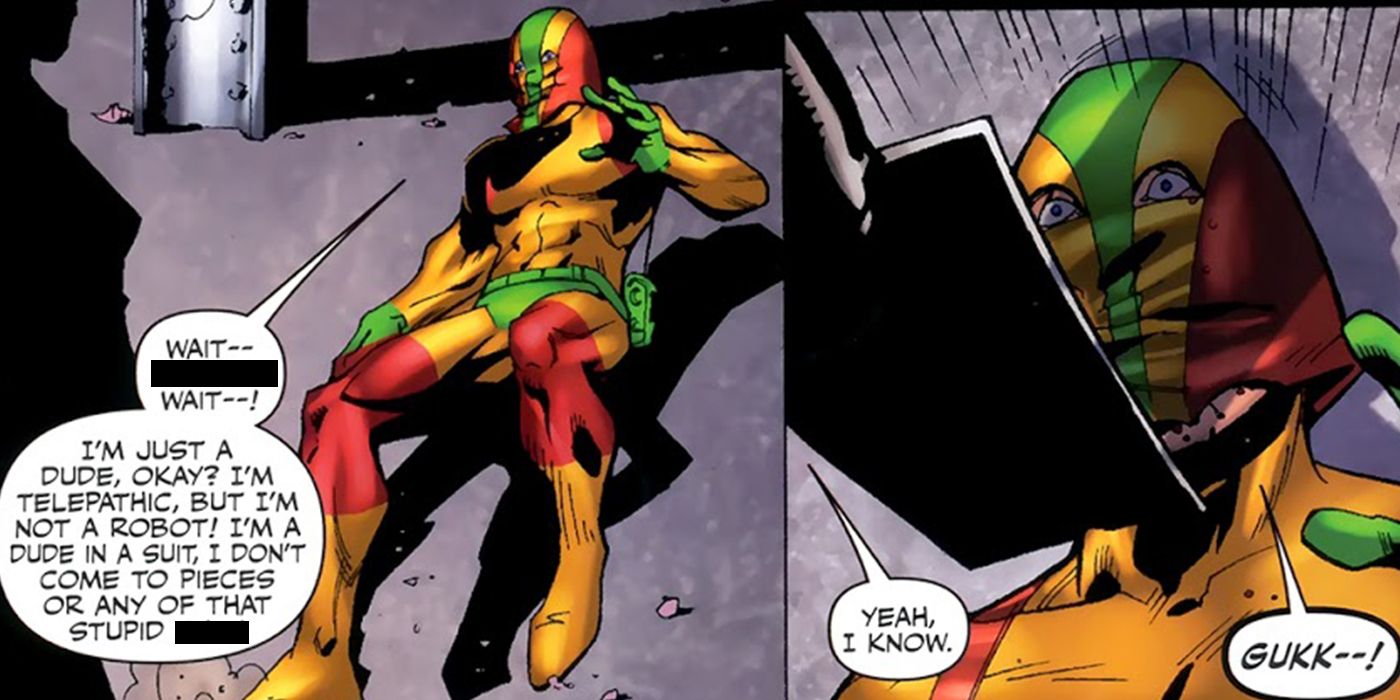 Sadly for Mind-Droid, revealing his true self doesn't stop Butcher's attack, as The Boys' brute uses the shovel to decapitate his enemy. It's a gruesome death and a humiliating end for what was thought to be a powerful android. While Mind-Droid's telepathic abilities and jetpack made him useful, the fact he lied about being an android makes him come across as pathetic and weak. It's fair to assume that if he was an android, he'd have a much better chance of taking on Butcher.
Mind-Droid hasn't appeared on The Boys Amazon series. However, considering members of the Payback team have already appeared on the show, including Stormfront and Eagle the Archer – plus with Soldier Boy set to be one of the main characters in season three – there's definitely potential for Mind-Droid to debut on the small screen. Making him a fake android on the show would be fitting as it's hilariously the most memorable thing about the character in the comics. Mind-Droid might be the biggest fraud in a world filled with egotistical fakers.
Next: The Boys Star & Creator React To Trump Supporters Dressed As Homelander