It is without a doubt that many of us dream of becoming celebrities in one way or the other, but there has never really been time to even build a fanbase.
Come to think of it, Monday to Friday rarely belongs to many of us since we have papers to fill, deadlines to catch up on, and at times meetings to attend- with weekends being spent with the boys and girls drinking the long week away.
Somehow, the social distancing directive has given everyone an equal opportunity to get that one dream going without too much hassle, a myriad of press conferences, and expensive concerts and launches to attend.
One way to quickly ascend the ladder is through taking part in the many online challenges that are now followed by many on social media, who have a deep craving for great content to while away their social distancing and work from home time.
The Oppo Reno3 phone on display.
File
With so much time on your hands now that you are home, imagine what would happen if you took up one of the challenges? All of us have that one hidden skill and talent, yeah? There has never been a much better time to show it to the world.
A simple video can take you places, I agree, but imagine what would happen if you decide to actually go professional, with just a little tweaking? Imagine the people out there that you can impress with your content?
The fact that it is hard to get a professional studio out there for proper quality video should be the least of your worries because, I mean, with a screen having a resolution of 1080 x 2400 pixels and 411 ppi pixel density, why would you need a studio?
If you want those perfect abs to be seen by all those thirst traps out there, then you need to ensure that they are well captured. If you want to show off the masks that you spent hours sewing, the details would be highly important.
For the ballers who cannot access the court, imagine the perfect still shots of your body, pushed to the limit as you dunk that ball into the extremely tall rim? Now close your eyes and caption the image.
Tell me, what do you think of a 44 MP f/2.4 front Camera (2.8″ sensor size, 0.8µm pixel size) and a rear 48+13+8+2 MP camera with features like Auto Flash, Face detection and Touch to focus? These features ensure that even the small droplets of sweat are seen on the shots that will make you famous.
Oppo Reno 3 is not only the active people out there but also for those looking to make lasting memories of this time that may never be witnessed again in this generation and many more to come. Imagine the videos and photos that you can take with a fully charged 4025 mAh battery? Imagine all the songs you can sing along to and the weird dance videos that you can share with the world to make someone's day?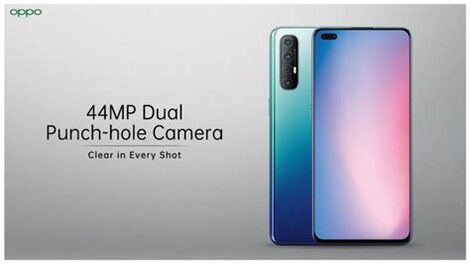 The Oppo reno 3 phone on display.
File
Whoever said that life was all about the memories we create might have had Oppo Reno 3 in mind because 8 GB RAM and 128 GB internal storage would be a good place to store the priceless moments you will have with family.
Do not wait for this opportune time to just sail past. You have the capacity right now, so grab your Oppo Reno 3 in either Auroral Blue, Midnight Black colours and turn that dream into a reality.
Rise to the occasion and reshape your life's course.