Celebs speak out
The biggest celebrities in Hollywood have been speaking out amid the coronavirus outbreak.
They're encouraging compassion and kindness among their following during this very stressful time.
Here's what the likes of Justin Bieber, Ariana Grande, Lady Gaga and more have been saying:
Miley Cyrus
Miley's been encouraging her followers to practice social distancing while also remaining respectful and compassionate.
The singer's been communicating with her Instagram followers on the issue through old Hannah Montana clips.
She shared a video from a scene where her character in the old Disney show is wearing a face mask.
Miley captioned the post, 'Day 2 Quarantine. This is the REAL ME. RIGHT NOW.'
Her boyfriend Cody Simpson commented, 'She isn't lying.'
In another post, a frustrated Hannah Montana exclaims, 'Did you see that? The new guy touched me.'
She goes on, 'Didn't anybody tell him? Hello! Never touch the star!'
Miley captioned the post, 'Social Fu**ing Distancing. #HannahAlwaysKnowsBest'
In her next post, Miley Stewart (aka Hannah Montana) is shown telling her brother Jackson, "It was an emergency!"
The singer captioned the post, 'Be thoughtful. Respectful. Compassionate. HUMAN. while preparing for social distancing….'
'NO ONE needs every soup in the store, The more we hoard the more expensive and sparse necessities will become, leaving many without essentials.'
Miley went on, 'This is a great time to practice restraint… it's incredibly difficult to make smart decisions while panicking , but think twice before following the fear and being inconsiderate.'
'There is enough to go around if we take care of one another. This is a beautiful time to LEAD!'
 

View this post on Instagram

 
Justin Bieber
Meanwhile, Justin Bieber has also been speaking out about the coronavirus outbreak on Instagram.
He wrote, '#BEATTHEVIRUS YOU MAY HAVE IT AND NOT KNOW IT…'
'DON'T SPREAD THE DISEASE STAY HOME AS MUCH AS YOU CAN'
'DO NOT GO OUT IN GROUPS NO BARS, NO CLUBS, NO RESTURANTS'
'WASH YOUR HANDS OFTEN KEEP 6 FEET APART ISOLATE YOURSELF IF YOU FEEL SICK'
Justin went on, 'NOW IS THE TIME TO ENGAGE ON LINE AND NOT IN PERSON IT IS NOT JUST ABOUT YOU, IT IS ABOUT US….. ALL OF US…. Love you guys.'
'But if you care about your parents or your grandparents or any friend who could be compromised please stay in and be safe.'
'Thanks.'
Ariana Grande
Ariana has taken to social media to express her concern over the amount of people who aren't taking the virus seriously enough.
She shared a post on Instagram Stories, 'i keep hearing from a surprising amount of people statements like "this isn't a big deal"https://www.spin1038.com/"we'll be fine"… "we still have to go about our lives" and it's really blowing my mind.'
The pop star wrote, 'i understand if that is how u felt weeks ago.'
'but please read about what's going on. please don't turn a blind eyes.'
'it is incredibly dangerous and selfish to take this situation that lightly.'
 

View this post on Instagram

 
Ariana went on, 'the "we will be fine because we're youg" mindset is putting people who aren't young and/ or healthy in a lot of danger.'
'you sound stupid and privileged and you need to care more about others. like now.'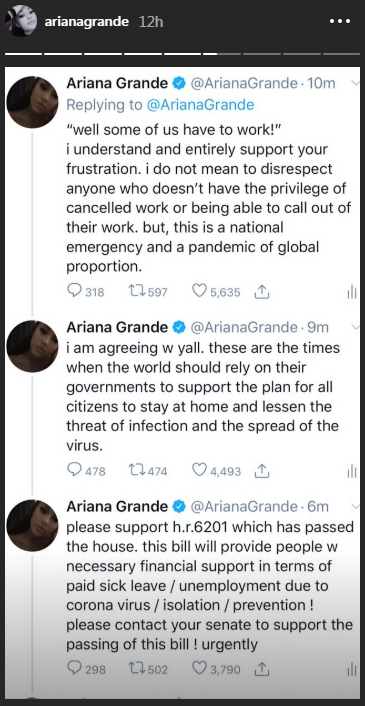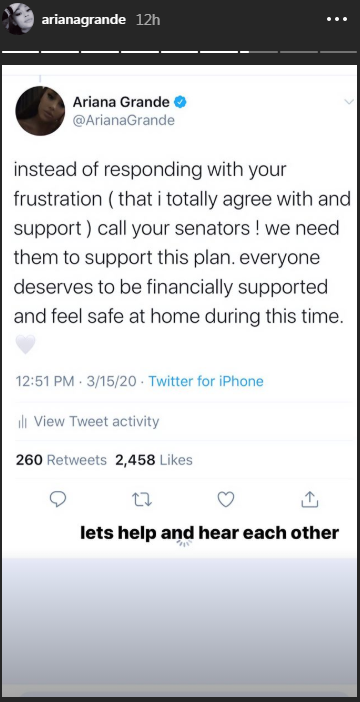 Instagram Stories @arianagrande 
Lady Gaga
Lady Gaga has shared a number of posts on the issue, 'So I talked to some doctors and scientists.'
'It's not the easiest for everyone right now but the kindest/healthiest thing we can do is self-quarantine and not hang out with people over 65 and in large groups.'
 

View this post on Instagram

 
She went on, 'I wish I could see my parents and grandmas right now but it's much safer to not so I don't get them sick in case I have it.'
'I'm hanging at home with my dogs. I love you world, we'll all get through this.'
'Trust me, I talked to God —she said we're gonna be ok.'
 

View this post on Instagram

 
Gaga shared another picture of herself wearing a hoodie.
She captioned the image, 'This is reminding I think a lot of us what it is to both feel like and be a human being.'
'I think it's so important to acknowledge that we are and must be a global kind singular community.'
 

View this post on Instagram

 
'We can't do this without kindness. And corona virus is not prejudiced.'
'My thought for the day is to accept there will be times we feel powerless and out of control—but we can fill that space with kindness and be a part of the solution to a world problem. We then have control.'
Gaga finished up, 'We can create healing by learning how to be kind and take care of each other and ourselves during this time.'
 

View this post on Instagram

 
Hilary Duff
Hilary Duff shared her frustration over the lack of coronavirus testing in the U.S.
'Many other countries testing very high number of people daily!'
'It's embarrassing that we are not set up for issues like this.'
She went on, 'These are scary times. We all have to stay calm but be smart.'
'Take the precautions to stay healthy and keep our mothers and fathers and grandparents risk low until this passes.'
Hilary added, 'Love to all.'
 

View this post on Instagram

 
Tom Hanks & Rita Wilson
Tom and his wife Rita have been keeping us updated on their condition after they both tested positive for the virus.
The actor announced the news of their diagnosis on Instagram last week, 'We felt a bit tired, like we had colds…'
'Rita had some chills that came and went. Slight fevers too.'
 

View this post on Instagram

 
Tom's been keeping us updated on their condition.
In a follow up post, he said, 'We have Covid-19 and are in isolation so we do not spread it to anyone else.'
'There are those for whom it could lead to a very serious illness. We are taking it one-day-at-a-time.'
 

View this post on Instagram

 
Tom shared a further update on Instagram yesterday.
He posted a picture of a kangaroo teddy, a class of water and vegemite on toast.
'Thanks to the Helpers. Let's take care of ourselves and each other. Hanx'
You can find everything you need to know about the coronavirus or COVID-19 here.