In these trying times, solidarity goes a long way. Recently, Indonesian artists and notable people raised thousands of dollars in both individual and public donations to provide COVID-19 relief.
A virtual concert called #dirumahaja had collected about Rp 11.5 billion (US$700,000) in public donations as of Tuesday through the crowdfunding site Kitabisa.com.
The fundraiser's target of Rp 15 billion by April 14 is the highest target ever seen on Kitabisa.
All the work that went into the effort – from production to the musicians – was contributed pro bono to ensure that donations would be distributed in their entirety to the most vulnerable groups, such as medical workers and underprivileged people who still had to travel to work.
Narasi, the digital media company that organized the concert, held from March 25 to 29, plans use the donations to provide food and basic necessities, protective medical gear and educational tools for school children without access to digital learning.
"We decided to distribute the donations in phases as we are aware that the pandemic will be here for a while," Narasi co-founder Najwa Shihab told The Jakarta Post on Tuesday. "We handed out a total of Rp 6 billion to charity organizations today."
Among the organizations receiving the funds were the Indonesian Red Cross; the Saling Jaga Movement, which provides basic staples to affected communities; the Semua Murid Semua Guru network, which addresses elementary education; and Rantang Hati, which empowers food stalls to cater to vulnerable communities with the help of online motorcycle delivery services for distribution.
"We have also allocated Rp 1.5 billion of the donations to empower garment home industries to produce protective gear for medical workers. For the next phases, we would like to find more uses for the donations that could benefit different communities at the same time," Najwa says.
Singer Afgansyah Reza, who performed on the first day of the concert from his home, expressed hope the virtual concert would raise public awareness about the pandemic. "I hope it helps us learn how to help those who are affected, especially medical workers."
The performers taking part in the concert included Afgan, Tulus, Rossa, Anji, Armand Maulana, Gamaliel, Kunto Aji, Barasuara, Raisa, Iwan Fals and Judika.
In addition to musicians, comic Bintang Emon, Education and Culture Minister Nadiem Makarim, State-Owned Enterprises Minister Erick Thohir and former vice president Jusuf Kalla also addressed the audience.
Lord Didi: Pop Javanese singer Didi Kempot, dubbed by his fans the Godfather of Broken Hearts, performs on the closing day of the virtual concert on Sunday. (Courtesy of Narasi TV/-)
Javanese pop singer Didi Kempot closed the concert on Sunday. By then, donations had reached Rp 9 billion.
"When we came up with the idea, we were only targeting Rp 1 billion in donations. But the result exceeded our expectations, so Kitabisa raised the target several times during the concert," said Najwa.
Certain celebrities made individual donations, such as singer-songwriter Maia Estianty, TV personality Cathy Sharon and singer Melanie Subono. 
Other celebrities ran a crowdfunding campaign under their name, such as YouTuber Atta Halilintar and film director Andibachtiar Yusuf. 
Kebaya designer Anne Avantie joined in by transforming her home garment factory to produce protective medical gear, which she distributed to hospitals for free.
"We all have God-given talents no matter how small that we can use to help each other," she posted on her Instagram account.
TV actress Nikita Mirzani donated hazmat suits for hospitals and Rp 100 million in cash, as she revealed in social media. She made the donation on her 34th birthday, March 17.
"I pray this troubled time will pass soon so we can return to our usual activities," she wrote. "I hope [the donation] will encourage other public figures and wealthy individuals out there [to follow suit]."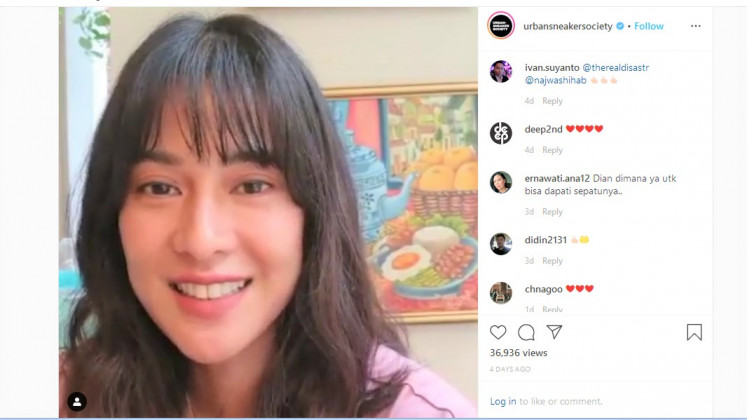 Pumped up kicks: Actress Dian Sastrowardoyo joins the effort to raise funds to fight the pandemic by auctioning off her sneakers and running shoes. (Courtesy of Instagram/therealdisastr/-)
Other celebrities auctioned their personal belongings to raise funds, including actress Dian Sastrowardoyo who sold her sneakers and running shoes in an online auction held by the Urban Sneakers Society.
"I was invited to join in [the auction] and agreed to do so. I wanted to do something to help to alleviate the impact of the pandemic no matter how small and limited the scale," she told the Post.
"I learned from this phenomenon that it moves so many people to do something in the name of humanity, and it builds solidarity while we relive the traditional values of gotong royong or sharing the burden," she said.
Najwa said Indonesia was the largest altruistic nation and that its people were quick to lend a hand in troubled times such as natural disasters.
"Our site crashed on the last day of the concert because so many people left a comment about why they donated. A group of students donated their prize money; someone gave their savings for their planned weddings; and one donor donated the funds for the cancer treatment of the parent in exchange for our prayers," said Najwa.
From the concert's success, she said, Najwa learned that the right packaging of events – and fact that the fans could see the personal side of musicians performing from their homes – had stoked the audience's enthusiasm to help with the cause.
"I hope people will keep donating because there are still a lot of things we should do together," said Najwa.
Dian said there were many ways people could help out in this situation.
"Don't just wait [for a crowdfunding event]. Just do what you can," she said. (ste)
Your premium period will expire in 0 day(s)
close x
Subscribe to get unlimited access
Get 50% off now